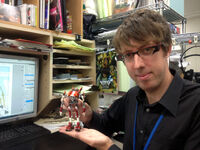 Thomas Romain is a French 2D animator. He now lives in Japan. His two most famous works are Code Lyoko and Oban Star Racers, the former of which he left early on, and the latter of which was the start of his career in Japan.
He speaks fluent French, intermediate Japanese, and intermediate English.
Early Life
Thomas was initially planning to become an engineer, but eventually realized that he didn't have the personality to do so. From there, he started drawing. After a period of working in micro-studios, he encountered Savin Yeatman-Eiffel Savin, who was putting together a team for the prototype of Oban Star Racers. He advised that Thomas enter Gobelins School of the picture, an elite animation school in France. It was there that he was exposed to anime. Eventually, in his second year, he partnered with Tania Palumbo and a couple of other people to work on Les Enfants. He also met and ended up working with Sophie Decroisette and Bruno Regeste there.
Thomas Romain was one of the first people involved with Code Lyoko. He and Tania Palumbo co-produced Les enfants under Antefilms when they were in school at the Gobelins School of the Image.
Based on this work, the pair got hired on by Antefilms full time. From there, the two put together the concept for Garage Kids, and animated the prototype. From there, Code Lyoko evolved, and he and Tania Palumbo co-wrote the series bible. Several concepts were added or scrapped, resulting in season 1. Thomas became bitter about all of the changes happening, as well as the creative constraints being placed on the project (particularly in terms of allowing the story to develop), and left the Code Lyoko team to work on Oban Star Racers.
Involvement in Oban Star Racers
Having left Code Lyoko, Thomas Romain went to work on the French-Japanese collaboratively animated show "Oban Star Racers". The show only lasted one season, during which he worked with Olivier Poirette. He used this gig as a springboard to move to Japan, and work in the Japanimation industry. Locally, he is known as ロマン・トマ, Roman Toma.
Later Works
After Code Lyoko and Oban Star Racers, Thomas Romain has gone on to produce many other works. This is an incomplete list:
Ikoku Meiro no Croisée
Aquarion Evol
Mouretsu Pirates
AKB0048
Satelight
Basquash!
Aria the Natural (Design Works)
Engage Planet Kiss Dum (Art Design)
Basquash! (Original Concept, Art Director, Mechanical Concept Design, Key Animation)
Senki Zesshō Symphogear (Art Director)
Space Dandy (Spaceship Design)
Twitter Feed
Citations
Community content is available under
CC-BY-SA
unless otherwise noted.