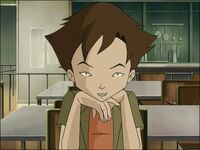 Theo Gauthier is a student at Kadic. He was played by David Gasman in English. He wears orange flannel shirt with a green jacket shirt similar to Ulrich's and blue pants, and has brown hair.
He appeared in the episode Claustrophobia. He showed to having an interest in Sissi in this episode, resulting in jealousy from Herb Pichon. Although in a Time Reversion, Odd instead sparks an interest in him towards Yumi in order to prevent rivalry between Theo and Herb. However, this also is shown to have made Ulrich jealous when Theo offers to walk Yumi home from a soccer game with his arm around her.
Theo continued appearing from the second season, appearing regularly without much importance. He speaks in "Tip-Top Shape". In "The Lake", after an electric shock, he exclaims to Jim that he is afraid. He was possessed in "Bad Connection".
He shares a family name with Laura. However, in "Chaos at Kadic" it is stated that they are not siblings. It is still unknown if they are cousins.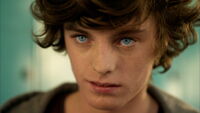 In Code Lyoko Evolution, X.A.N.A. created a spectre of a boy with a very similar appearance with Theo in the episode How to Fool X.A.N.A. to hypnotize Yumi into giving him her codes. It is ambiguous if this was supposed to look like Theo or not.
Appearances
Season 1
Season 2
Season 3
Season 4
Season 5
Trivia
In Polish version of the show he was voiced by Leszek Zduń.
Gallery