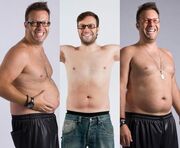 Quimbé is a Portuguese actor who specializes in European Portuguese dubs. He also does live action acting and directing. His full name is Joaquim Alberto Novo Teodoro. Quimbé is a stage name. In addition to a large body of other work, he contributed to the Code Lyoko franchise by playing the roles related to Jim Morales and William Dunbar. He is most famous for dubbing work, and for his role in "Inspector Max".
Biographical Information
Joaquim Alberto Novo Teodoro was born on July 19th, 1973. He is now married to Ana Palma, and has two children with her. He was challenged by Atkins to lose some weight, and lost 20 kilograms.
Code Lyoko Work
Pictures of Roles
Noteworthy Non-Code Lyoko Work
All roles are for European Portuguese dubs, unless otherwise noted.
Ren & Stimpy - Stimpy
Medabots - Metabee.
Yu-Gi-Oh! - Joey Wheeler; Pegasus.
Naruto - Kakashi Hatake, Neji Hyuga, Shino Aburame.
One Piece - Mihawk; Brandnew.
Tokyo Mew Mew - Marco.
Bakugan - Drago.
Rango - Bruto Bill.
Capuchino Vermelho - A Nova Aventura - Mad Hog, Moss.
Batman: Os Valentes e Audazes - Aquaman.
Os Simpsons: O Filme - Krusty, o Palhaço.
Abram Alas para o Noddy - Sonso; Sr. Faísca; Sr. Sempre-em-Pé; Sr. Volumoso.
Doraemon - Takeshi "Gigante" Goda.
Further Reading