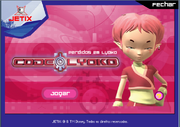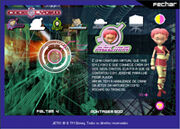 Perdus dans Lyokô, or in English, "Lost On Lyoko", or in Portuguese "Perdidos Em Lyoko"; is one of the minor Code Lyoko videogames. It was made by Jetix for the Brazilian Portuguese market. It was written in Macromedia Shockwave. It is a game where one looks for objects which have been hidden in an image.
Gameplay
The game is that the user is given a background with the Lyoko Warriors and some Monsters out of focus hidden within the image. Within a time limit, the player must find and click on as many of these as possible.
Controls
The controls are a simple "point and click" system.
External Link
http://en.codelyoko.fr/jeuxflash/perduslyoko.cl