WARNING

THIS PAGE IS IN NEED OF AN OVERHAUL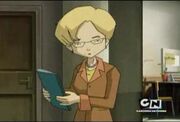 Nicoletta "Nicole" Weber is the office secretary of Kadic Academy. Her office is beside the Principal Delmas' room. As Nicole is the secretary of the principal, it is her job to make sure that he is not disturbed while working and to deal with any admin situations.
She is mainly a minor character in the series and has also made several cameos in the series. She appeared in Code Lyoko: Get Ready to Virtualize where she turns out to have a crush on Jim.
In the English dub, she is voiced by Jodi Forrest.
Appearances
Gallery