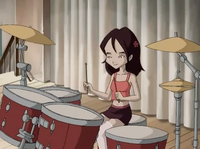 Naomi N'guyen is a character in Code: Lyoko. She is in the eighth grade. She is part of Kadic's music class as can be seen in Ultimatum. Naomi was 12-13 years old and is now 14 years old. She was voiced by Barbara Weber-Scaff. Her hair is black, she wears pink franelilla (in two episodes it is yellow) and a small brown skirt.
Her first appearance was in Seeing is Believing when she tried out as the drummer for Odd's new band. Despite Odd being attracted to her, she was terrible. When Nicholas got the part, her request to join was denied by Ulrich and Yumi.
Her next appearance was in William Returns.
Other appearances include her reading the Kadic News in Opening Act, and her being worried when Mrs. Hertz fails to wake up in The Lake.
In episode 73 (Replika) is the first person to whom Nicolas invites to have a fantastic experience in the light of the Moon, but she rejects it. She was turned into a zombie in episode 40 (Attack of the zombies) and in episode 91 she was possessed via the cellphone.
Appearances
Season 1
Season 2
Season 3
Seaso 4
Gallery
Community content is available under
CC-BY-SA
unless otherwise noted.