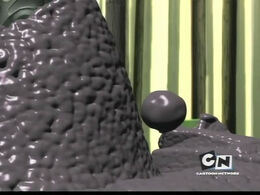 This page is about the monster. For the episode of the same name, see Marabounta (episode).
The Marabounta was a monster created by Jeremie, based on the principle of ants, that, if working together, each on individual tasks, they could collectively accomplish tasks worthy of one or more intelligent individuals. It only made one appearance, in the episode "Marabounta". It existed as a black/grey/brown/off-purple blob that started out as a single sphere. The single sphere quickly multiplied and became a sort of ooze. Its purpose was to get rid of X.A.N.A.'s monsters, like Krabs and Megatanks, by consuming them and dragging them into the slime (and to the unlucky one's doom), thereby allowing the Lyoko Warriors to achieve victory much easier.
Its usefulness was rendered null. However, when it sensed the link that Aelita had to the Supercomputer/X.A.N.A. (because of the supposed virus implanted in her by X.A.N.A.), it tried to kill her.
It was eliminated through a never-before-seen-or-since collaboration between the Lyoko Warriors and X.A.N.A.'s monsters, before it could do any harm to Aelita. It was destroyed by a modified laser arrow, armed with a virus, that struck the original sphere.
Trivia
Gallery