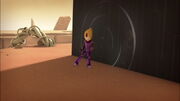 Lyoko has an extensive network of wires which connect the towers to each other, and the other components of the system.
The four surface sectors each have their own autonomous network of wires. In addition to those, the Way Towers share an independent network of wires. There are also other wires which don't connect one tower to another, but rather from towers to system components.
Sector Five itself does not seem to have a visible wire network inside of it, even though the rest of Lyoko's wires all connect to it, as seen during transitions involving the transporter, where it is revealed that the wires originate from a bright light that indicates the presence of Sector Five. It is unknown if this feature remains after Lyoko's recreation in Season 4, however.
Functions
Trivia
Gallery: Seasons 1-4
Gallery: Evolution