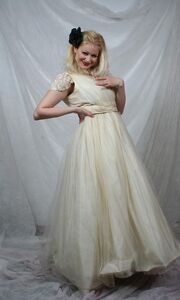 Katja Sirkiä
is a Finnish celebrity. Katja Sirkiä is a singer, voice actor, and stage actor. Katja Sirkiä is most famous for playing Elsa in the Finnish dub of "Frozen". Her contribution to the
Code Lyoko
franchise
Suzanne Hertz
and
Tamiya Diop
in the Finnish dub in the later seasons.
Katja Sirkiä currently resides in Helsinki, the capital of Finland. She can be reached at katjasi@hotmail.com or 040-776 8447 (Finnish phone grid). She speaks English, German, French, and Finnish. She is a native speaker of Finnish and German. She is 173 centimeters tall. She can sing in high soprano (broad voice). She has basic skills in ballet, jazz, horse riding, and broadway dancing.
Biography
Code Lyoko Roles
Noteworthy Non-Code Lyoko Roles
Role
Language
Episodes
Elsa
Finnish
Frozen
Rainbow Dash
Finnish
My Little Pony: Friendship is Magic
Nadia
Finnish
Kärpäsenä kuuhun
Jillian
Finnish
Despicable Me 2
Evangeline
Finnish
Nanny McPhee
Lin
Finnish
Spirited Away
kertoja
Rai Aishuwarya
Lopmon/Antylamon
D-Reaper
Pajiramon
sivuäänet
Finnish
Digimon
Timmy Turner
Finnish
Fairly Odd Parents
Ursula
Finnish
Dinosaur King
Jasmine
Fonda Fontaine
Finnish
Yu-Gi-Oh! GX
Neiti Telle Töpinä
kertoja
Finnish
Lazy Town (jaksot 31-52)
She has also been in productions of Hairspray, Wicked, Les Misérables,
Further Reading
Community content is available under
CC-BY-SA
unless otherwise noted.