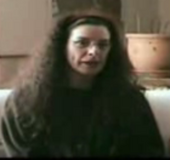 Jodi Forrest (February 8, 1956 - December 2017) was an actress who provided several voices for Code Lyoko from Seasons 1-4. In addition to voice acting, she also did live acting, directing, lighting, dancing, opera singing, and teaching. She lived in Paris, France.
Her name has been spelled as Jodi, Jody, and Jodie. She once came to work dressed in Sissi cosplay.
On June 25, 2018, it was revealed by fellow voice actor Paul Bandey via the creator of the IFSCL that Forrest died from a long illness. Another fellow voice actress, Barbara Weber-Scaff, reported that she had died in December the year before.
Noteworthy Non-Code Lyoko Roles
"Ratatouille", noteworthy because Matthew Geczy, Jodi Forrest, David Gasman, Sharon Mann, and Alan Wenger, all of whom are Code Lyoko actors, worked on this film.
"A Monster in Paris", noteworthy because it also had a ton of Code Lyoko actors. Such actors include Jodi Forrest, David Gasman, Matthew Geczy, Mirabelle Kirkland, and Alan Wenger.
Several roles in the Rabbids franchise. Again, because of the absurd number of Code Lyoko actors. Matthew Geczy, Jodi Forrest, David Gasman, Sharon Mann, Alan Wenger, and Mirabelle Kirkland have all had roles in this franchise.
The Rayman franchise has too many of these intersections to find.
Agatha in Indigo Prophecy
Jade in Beyond Good and Evil
Zoe and Sendell in Little Big Adventure 2
Various characters including Gohan and Zangya in an alternate European dub for various films and specials in the Dragon Ball franchise.
She also was in the documentary "Lyoko: Decoded." She was interviewed about Code Lyoko. She also provided Sissi's voice for the documentary's gags. She described Sissi as "strident", "full of herself", and "very spoiled, so she's used to getting her way."
Code Lyoko Roles
She also played all of her characters' X.A.N.A.-possessed counterparts.
See also: Mr. and Mrs. Ishiyama
Pictures of Roles
Sources