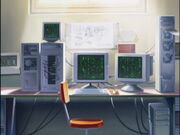 Jeremie's Computer is the computer in Jeremie's room. It has access to the factory interface. All of the titlecards from Season 1 were based off of its interface. In Season 1, this was his primary means of contacting Aelita between attacks.
Noteworthy Events
In "Cruel Dilemma", Jeremie, thanks to Odd spilling candy on the keyboard, was able to make an early functional version of Aelita's Materialization Program. It only worked once, and had to be used on Yumi, to rescue her from the Digital Sea.
In "Image Problem", the computer is wrecked by X.A.N.A. Yumi in order to prevent Jeremie from contacting Aelita, thus forcing Lyoko Warriors to go to the Factory. It was a part of X.A.N.A.'s plan to destroy the scanners. The computer was later fixed by a return to the past.
In "Just in Time", Jeremie used an extremely buggy version of Aelita's Materialization Program, which bugged up the Annex Program, and forced her to suicidally deactivate a tower. This was later fixed by cloning her from a hair.
In "The Trap", the Lyoko Warriors celebrated Aelita's birthday there.
In "Frontier", Jeremie yelled at Aelita when he was speaking to her here. This set up the episode.
In "Code: Earth", Jeremie finally finished Aelita's Materialization Program there.
In "Mister Pück", X.A.N.A. used it to possess Jeremie.
In "Temptation", Jeremie used it in tandem with a headset to harness the power of returning in time. It had near-lethal effects.
In "Cousins Once Removed", it was used to work on the Skidbladnir, then X.A.N.A. possessed Sissi and Herb to sabotage it.
It was used as a plot device in "Wrong Exposure", when it was used to make the Lyoko Restoration Program, and Odd acidentally used it to send a picture to Sissi.
Gallery