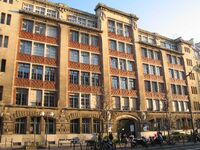 Gobelins, l'école de l'image, or in English, "Gobelins, the school of visual communication" is a prestigious animation school in France. It is noteworthy for having produced many of the production crew of "Code Lyoko". It is funded by Parisian Chamber of Commerce and Industry. It was founded in 1975 by Pierre Ayma.
The school teaches both 2D and 3D animation, with drawing ability being a major component of admission. Out of every 34 applicants, only 1 is admitted. Between the two campuses, there are 650 students usually.
Influences on Code Lyoko
Gobelins had many influences on Code Lyoko. The character models for Kiwi, Jeremie, Odd, Ulrich, Yumi, Milly, Tamiya, and several background characters were initially made at Gobelins, as part of Les enfants. Many of the people who worked on Code Lyoko were hired from Gobelins as well.
Noteworthy Alumni
Frederic Perrin, who later taught at the school
Pierre Coffin, co-director of Despicable Me.
Bibo Bergeron, who worked on Ferngully, We're Back!, A Goofy Movie, All Dogs Go To Heaven 2, Iron Giant, Flushed Away, Sinbad, A Monster In Paris, and Bee Movie.
Eric Bergeron, who worked on A Monster In Paris.
Many of Gobelins' alumni have gone on to work for most major studios; such as Disney, Dreamworks, Moonscoop, Pixar, Gaumont, DIC, and Cartoon Network Studios.
Location
The school has campuses at Noisy Le-Grand and Paris.
Further Reading