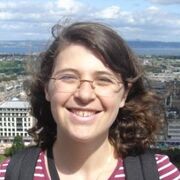 Diane Morel is a French writer and storyboarder who worked on several episodes of Code Lyoko Evolution. She has previously worked for many french media companies, including France Télévisions and Moonscoop. She currently works for Studio 100 Animation.
Life Information
Diane Morel has been active in the media industry since 1995. She speaks French, English, and Spanish fluently, and has limited proficiency in Greek, Latin, and some form of Chinese. She attended University of Paris, Université Vincennes-Saint-Denis, and Ecole normale supérieure. She has worked for all of the major powers in the French media industry, including Moonscoop, FRTV, M6, Gaumont, and Marathon.
Code Lyoko Work
Storyboarding
Noteworthy Non-Code Lyoko Work
"Missy Mila's Twisted Tales"
"Mikido", "Le Petit Nicolas"
"The Little Prince"
"Geronimo Stilton"
"Tara Duncan"
"Silly Bitty Bunny"
"Bali sign Language"
"Nelly and Caesar"
Further Reading
Community content is available under
CC-BY-SA
unless otherwise noted.