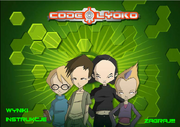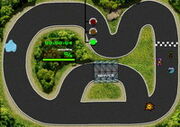 Code Lyoko Race 2, also known as Course Code Lyoko 2; is one of the lesser known games in the Code Lyoko franchise. The company that released the game; "Zigzap", a Polish subsidiary of Canal +; never gave the game a formal title. As a result, both of those names are fan created for practical reasons. The game is only available in Polish. It was created in Adobe Flash.
Code Lyoko Race 2 is a 3rd-person omnipotent racing game in which some of the Lyoko Warriors race carts in some of the locations of the show.
There are 2 styles of gameplay: Two "best time" modes, and two "beat the other players" modes. Each style has a single and multiplayer mode. The third character is always A.I.. The second character is either human or A.I.
"Escape" is used to pause. Player 1 uses directional keys. Player 2, if present, uses WASD directional keys. Shift and F are used respectively for the nitro feature.
The player must finish a certain number of laps. The player also has a finite amount of fuel. The car must be refueled at the pit stop, which also is used to repair damage. If a vehicle is too damaged, it is removed, and the player has to start moving again, loosing time.
The available characters are Odd, Ulrich, and Yumi. There are obstacles. There are several courses: The Kadic Park, the secret passage in the boiler room, the Desert Sector, the Ice Sector and Mountain Sector.
External Links