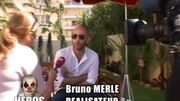 Bruno Merle is a French writer who worked on Code Lyoko. He is most famous for writing several episodes of Code Lyoko, and for directing "Héros", a horror comedy. He usually partnered with Jean-Rémi François for writing.
Writing
Noteworthy Non-Code Lyoko work
Writing
La fille des étoiles
Heidi
Confusion
Sherlock Yack: Zoo-Detective
Zombie Hotel
Martin Morning
Le tombeur
Plus que parfait
Walter Melon
Directing
Confusion (Short)
Héros
Le tombeur (Short)
Plus que parfait (Short)
La fille des étoiles
Acting
Awards
Nominated: 2007 Golden Camera Award for "Héros"
Nominated: 2007 Free Spirit Award for "Héros"
Further Reading