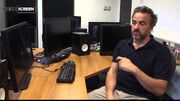 Bertrand Veyne is a writer who worked on several Season 4 episodes of Code Lyoko. He writes children's stories under the pen name Philippe Andrieu. He has worked as a writer, a director, and a cinematographer. He is affiliated with Agence Kamaji.
History
Bertrand Veyne was trained at FEMIS. He began his career as an assistant operator and photography director for commercials, short films, documentaries, and film. He began working as a screenwriter on animated series in 1996. He has also signed several literary bibles, though he did not influence Code Lyoko's literary or graphic bibles. Under the name Philippe Andrieu, he has written more than 15 books since 1999.
In 2002, Bertrand co-wrote two books of Kirikou with Michel Ocelot (Kirikou et le Buffle aux cornes d'or / Kirikou et la Hyène Noire). These were adapted to film in 2006 under the title "Kirikou et les Bêtes Sauvages".
Writing
Noteworthy Non-Code Lyoko Work
Writing
Jason and the Heroes of Mount Olympus
Malo Korrigan and the Space Tracers
Walter Melon
Directing
Cinematography
L'Autre Femme
Fils de personne
Further Reading