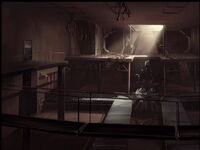 The Assembly room is where the various car parts made in different parts of the factory were assembled. In The Trap, X.A.N.A. used different machine tools in this room to try and eliminate Odd and Jeremie when they attempted to get to the control room. It is also where X.A.N.A. made his X.A.N.A.'s first robots in order to seek out and kill the Lyoko Warriors in the episode, The Robots.
Also in the room, X.A.N.A. used a Krab, he had materialized on earth, to chase and try to shoot down Odd in A Bad Turn. Yumi also fought against a possessed William in Fight to the Finish here as well.
Trivia
Pictures
Community content is available under
CC-BY-SA
unless otherwise noted.