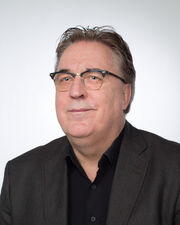 Arto Niemien
is a Finnish voice actor who voiced
Waldo Schaeffer
and
Jean Pierre Delmas
in the Finnish dub of
Code Lyoko
. He also works as a theater actor, writer, and director.
Biography
Arto Nieminen was born in 1957. He began acting in the 80s. He has worked in theater since the 90s. He began voice acting in 1995.
Code Lyoko Roles
Noteworthy Non-Code Lyoko Work
Dubbings
He-Man
Pokemon
Transformers
The Fairly OddParents
The Powerpuff Girls Movie
Top Cat
Spiderman the Animated Series
Bey-Blade
Winx Club
Yu-Gi-Oh! GX
Dramas
NyyrockCity - Puljusta Pulpukkaan (2013)
SaloNkia (2012)
Immola (2011)
Laulu lapselle - Lotus Hill (2010)
Rakkauden rikkaus (2008)
Pikatie (2007)
Paratiisi (2006)
Alla - Elämäni miehet (2006)
Tapsa, Toivo ja Rakkaus (2005)
Laatikkoleikki (2005)
Lailan laulu (2005)
Isältä pojalle (2004)
Minä tulin viidakosta (2003)
Kumpi, kampi ja kummitus (2002)
Unta ja totta (2000)
Täällä jossakin (1999)
Alla taivaan ja maan (1998)
Valtamon kioski (1997)
Lukkarin rakkaus (1996)
Ukkosen poika (1996)
Punainen kukko, harmaa tuhka (1996)
Kolme ruusua Ruuskanen (1995)
Haapaniemen neitsyt (1995)
Punahilkka (1994)
Reissumiehen poika (1992)
Further Reading
Community content is available under
CC-BY-SA
unless otherwise noted.